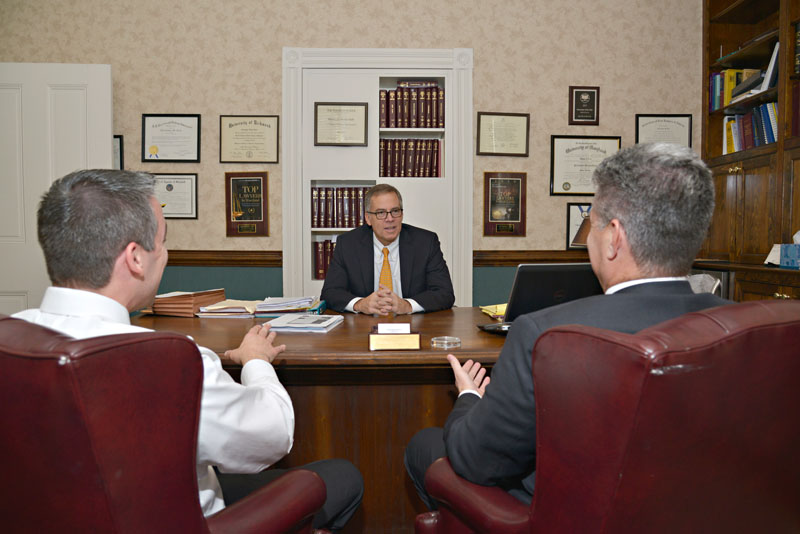 Our attorneys work for you, our client. Period. We are bound and determined to provide you, our client, with the highest level of professional, ethical, and effective representation for the most successful outcome of your legal matter. We have spent years building our reputation for excellence and it shows. Rolle & DeLorenzo is the law firm more people turn to when legal expertise is needed. You should too.
Consultation:
We always offer a free initial consultation over the phone. Call us and you can discuss your matter directly with one of our experienced attorneys – no charge. Ask your questions, get answers, and we will also quote you a fee if we believe your matter is one we can handle effectively for you. What do you have to lose? Call us today.
Payment of Fees:
We understand that paying for legal services can be difficult. That's why we accept all major credit cards – Visa, MasterCard, American Express, and Discover. We do not offer payment plans. Most of our work is done at an hourly rate. We will quote a retainer fee, which must be paid prior to our commencing work. There are certain matters that we can handle on a flat fee basis and there are others that we handle on contingency fee basis. We charge in the following different ways:
Flat Fee: The client pays an up-front fixed fee for the completion of a specified amount of work. This is often used for cases and tasks with a predictable amount of work, such as wills, separation agreements, District Court matters, and most criminal and traffic cases.
Hourly: All work done by the attorney is charged by the hour, or a fraction thereof. This is a common method of billing in cases where it is impossible to estimate the number of hours that will be spent on the case, such as divorce and custody cases, and complex civil matters.
Contingency Fee: For personal injury cases and certain other civil cases, an attorney may opt for a contingency fee agreement, which means that the client pays only from the proceeds won in a case, either by way of settlement or trial.
We will discuss these arrangements with you when you call for your free initial consultation.
Communication:
Lack of communication is the #1 complaint clients have with their lawyers. At Rolle & DeLorenzo, we are fully committed to keeping you informed about your matter from start to finish. Our policy is to send our clients a copy of everything related to their matter that comes into our office or goes out of our office. We prefer to do so by email, but if you are "old school" and prefer the U.S. Mail, we can do that as well. We also talk to our clients and answer any and all questions that come up. We understand that most people have never been involved in the legal process before and it can be very confusing and unsettling. We like to help calm your anxiety with information and we respond immediately to all emergency calls. When clients have an urgent question, but not an emergency, we respond within 24 hours. All other matters are typically handled within 48 – 72 hours. The exchange of information is critical to effective representation – what we don't know could hurt you so we take our client communication relationship very seriously. Our phones are answered 24/7.
Seen enough?
Retain Rolle & DeLorenzo for your legal matter by contacting our office for a free initial telephone consultation at (301)698-4875.